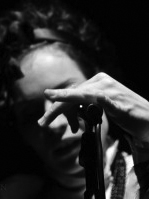 accordion, vocals,  composition
Andronia Popova is a Bulgarian musician. She is known as the front woman of Nasekomix. She and her music appear in the award winning movie of Kamen Kalev "Eastern Plays". With Nasekomix she performed on the world premiere of the movie on Cannes Film Festival as well on Sarajevo Film Festival and on the premiere in Paris.
Andronia Popova participated in numerous music festivals and concerts: Festival of Electronic Music (Sofia, Bulgaria, 2001 and 2002), Colour of Music (Padua, Italy, 2001), concerts in Berlin (Germany, 2002), Lille (France, 2003) and in Cadiz (Spain, 2004). She composed and performed the music for several theatre plays such as "Jonathan Livingston – The Seagull" and "White Nights" and for several movies – "Angel" by Portokalite (2004), "Mila From Mars" by Zornica Sofia (2004) and original music for the documentary movie "Death and the Whole Way Back" by Zornica Sofia (2005).
Andronia arranged and recorded the string parts and the vocals for Donna Dee, Greg-Wizard, DJ Deekline and Ils.