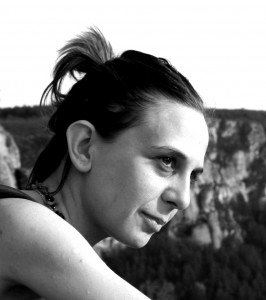 Concept, video editing, instruments' design, scenography, costumes
Petya Bouykova works as a scenographer. 2010 she graduated the master programme Scenography at the Art Academy in Sofia, Bulgaria. Petya creates video, costumes and scenography for Runabout project and participates in the performances of the group. She is author of the costumes and the scenography for the debut theatre plays of Veselin Mezakliev, Marii Rosen and Valerya Vulcheva.
Petya Bouykova participated in a group exhibition in Maastricht, Holland, as well as in several national and international festivals such as the Prague Quadrennial (Czech Republic, 2007), August in Art – Festival for Visual Arts (Varna, Bulgaria, 2008), the Golden Dolphin Festival (Varna, Bulgaria, 2008), "Small season" 2009 and 2010 (Sofia, Bulgaria), Da-fest (Sofia, Bulgaria, 2009), Sofia Underground Fest (Sofia, Bulgaria, 2009) and the Freaky Weeky Art Festival (Kaliakria Resort, Bulgaria 2010).